Estudo do Background do Ken
Enviado: Qui Jul 30, 2020 10:09 pm
Amigos estou estudando programação Orientada a Objetos e pretendo criar um novo sistema de animação para a engine.
Isso vai possibilitar desenvolver cenário idênticos aos dos jogos originais, onde existem vários objetos espalhados pelo bg, cada um com sua animação e movimento nos eixos x/y, o emprego de layers para criar o efeito de parallax, o objetos interativos, tipo o barril da imagem.
Esse estudo tb vai possibiliar criar Intro sofisticadas como as da série KOF de Neogeo, e finais para os personagens do jogo, entre outras coisas.
Segue meu estudo dos gráficos usados no bg do Ken:
BONUS: Anotação para mim mesmo ver depois:
http://www.extentofthejam.com/pseudo/

Raster Effects - Some Background

A pseudo 3d road is just a variation of a more general class of effects called raster effects. One of the best-known examples of a raster effect is in Street Fighter II: As the fighters move left and right, the ground scrolls in perspective. This actually isn't 3d. Instead, the ground graphic is stored as an extremely wide-angle perspective shot. When the view scrolls, the lines of the screen which are supposed to be farther away scroll more slowly than the lines which are closer. That is, each line of the screen scrolls independently of each other. Shown below is both the end result and the ground graphic as it is stored in memory.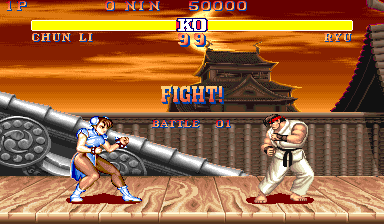 hi A fat NPC, sorry for the late reply. I'm using java built in Graphics class methods to do the shear transformation. You can take a look at the source here:

https://github.com/leonardo-ono/Java2D_ ... Floor.java

If you have questions, please feel free to ask ok